Information for buyers
What bidders should know:
The Auction House Schwab hosts up to eight auctions per year. The auctions are public and free accessible for everyone. Bidding and buying at an auction is always an exciting experience. We invite you to enjoy the special atmosphere of an auction, whether you bid on something or not.
During the auction the auctioneer calls out the lots. We start in chronological order of the catalogue and the prices start at the limits shown in it. The auctioneer accepts bids from the floor and on the phones. It is possible to send absentee bids until one day before the auction. The normal bidding step averages 10%. The bidder with the highest bid receives the object.
About the objects:
Informations on the objects can be found in the catalogue. All objects will be exhibited in our showrooms the week before the auction – come around and examine the objects personally. Do not hesitate to contact us if you have any questions. We will be happy to give you more detailed informations and provide additional photos if needed.
About the prices:
The prices in the catalogue are starting prices. The amount the buyer has to pay is a combination of the hammer price and the buyer's premium of 22% plus sales tax of 19% which sums up to 26.18%.
How to become a bidder:
To become a bidder you only have to register once which is totally free of charge. You are also invited to visit our auction in person. To register at our place you only have to present a valid photo ID.
How to bid:
1. Absentee bid in written form by e-mail, mail or fax:
Until one day before the auction you can send us your bid in
written form
. Please inform us on the objects you are interested in and in the amount of your maximum bids. If no other higher bids are offered, we guarantee that your final bid will be accepted at a price below your upper limit.
2. Telephone bid
We also offer you to bid by phone when the starting price is 50 € or more per object. Contact us in written form or telephone and inform us about the objects you are interested in. Please make sure that you are available at the time of the auction. We will call you directly from the auction a few minutes before your lot of interest is up. You bid live during the auction. If we cannot reach you on the phone and in case you are the only bidder you have to pay the starting price. In case there's competition on your lot and you gave us a higher absentee bid we can go up to the maximum bid you told us.
3. Bidding in person
Register on the bidder counter to get a bidder paddle before the auction starts. The bidder counter opens at least half an hour before the auction starts. Please bring a valid photo ID for the registration.
You can bid by raising your bidder paddle. Normally, bidding increases the price about 10%. You win the object if the auctioneer invoices your bid three times and the hammer falls.
4. Bid live online
Please do not forget to register in time to follow our auction and bid easy and safe online. If you bid live using our website you have to pay 24% buyers premium instead of 22% (28.56 incl. VAT), on external plattforms the buyers premium is 25% (29.75% incl. VAT).
Payment, pick up and transport
Clients who bid in person can pay and pick up their objects directly after the auction. Absentee bidders and telephone bidders receive an invoice and receive their objects after having paid. The buyer pays the transport which is calculated individually. We can insure the transport if requested. Payment is possible in cash, with credit or cash card or by bank transfer.
Missed an auction?
Objects that haven't been sold at the auction can be purchased afterwards up to four weeks to the limit price and the above mentioned 23.8% (fee & tax).
Information for sellers
Why should you sell your object at our auction house?
Find your hidden treasures! We appraise your objects and find out their current market value. Our appraisals are always cost-free and without obligation to sell the objects. If your objects are suitable for an auction, you are welcome to consign them. We treat your objects responsibly and work on them professionally with scientific standards.
In case of a successful auction you have to pay a commission of 23.8 % (incl. tax). If we are not able to sell your object you do not have to pay anything. You can be sure that we do our best on selling your objects. Your success is also our success!
Our services include:
All objects left for sale are covered by loss and damage warrenty. We do the research on your objects and describe them in an art historical manner. Each object is photographed several times and published with pictures together with a description in a catalogue which is worldwide accessible. We answer questions of our international clients in several languages and send them additional photos of your objects if requested. We supervise the presale exhibition and provide advice to interested attendants. After the auction we take care of payment and clearing formalities and the transport. Competent work on public relations and promotions in different media complete our services offered.
How to become a seller:
Contact us by email or call us by phone during our business hours. Send us information and photographic material concerning your object or meet us in person after arranging an appointment. Please let us know if your objects are unwieldy or if you have got a collection of a big scale so we can visit you at home, if you wish.
What happens to the objects?
After cataloguing your objects we send you a galley proof. You obtain it by email or mail. It includes the descriptions of your objects as well as the lot numbers and starting prices. Please check whether the content matches the recorded agreements.
You can review whether your objects have been sold in the results list which we publish on our website. The lot numbers needed to check the result can be found on your correction copy. If your objects have been sold you get a calculation and your auction proceeds four weeks after the auction. Unsold items can be collected at our premises without any costs.
A nice example from the past: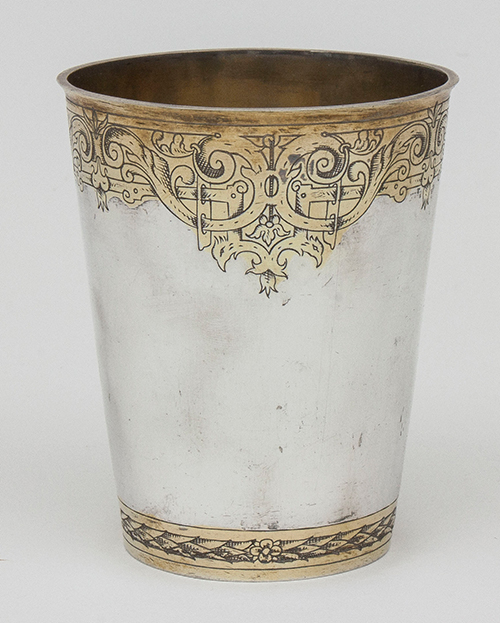 Family X from Y was in the possession of various antique objects due to an inheritance. Their aim was to give the proceeds of an auction to a beneficial purpose. Therefore, they contacted us. They got comprehensive supervision and a professional valuation of their objects. One of the objects was an unimposing silver cup which our auctioneer recognized to be a precious item. Based on his experience with antique silver and his knowledge of assaying he could specify its source in Zurich and its decade of origin to be the 17th century. These special information made the cup attractive for collectors so that it could be sold in the auction for the impressive amount of 8.400 €. It was a big surprise for the family X who generously donated their auction proceeds to a beneficial purpose.
This case shows clearly the importance of your confidence in the knowledge and experience of our auctioneer and his team because your success is ours, too.
Contract of sale
More information and highlights you find in our
flyer
.